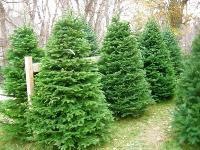 Our premium grade #1 Noble fir, Douglas fir, Fraser fir, and Grand firs come from the Pacific Northwest. They are cut just days before arriving here in Utah. Premium graded trees are very similar in shape and size. Pictured here are our actual trees. Because of the quality and price of our trees it is recommended that you order early each year. We suggest a good time to order is when you are taking down this years Christmas tree. Our wild Douglas, Lodgepole and Subalpine trees are cut right out of the mountains of Idaho, Montana and Wyoming.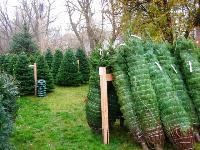 We deliver to most cities along the wasatch front. Most of our tree sales are prepaid early, however, we do offer 100 trees each year that have not been prepaid. You are welcome to view these trees in our nice, clean, organized, personal, quaint backyard setting M-S 6-9pm beginning the first Monday after Thanksgiving. These 100 trees always sell out the first two weeks of December.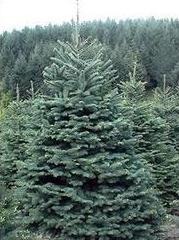 A Noble fir Christmas tree is an evergreen tree in the true fir family with gray green needles that often appear silver. It has long been considered an excellent Christmas tree because of it's beauty, stiff branches and long needle retention. It is our personal favorite and also our most popular best selling tree. The needles are generally twisted upward so that the lower, lighter colored, surface of the branch is exposed. The tree has a rounded crown and symmetrical shape. The needles grow to about 1½ inches. A cultured Noble fir Christmas tree is dense and grows slower than most other varieties. Reasons for noble fir popularity include: It's Beautiful Shape. Its Fragrance. Symmetry. It exhibits great needle retention. Its durability. You can expect your Noble fir to stay fresh with proper watering and care for up to 6 weeks after being cut.

Noble Fir (use drop down for sizes, prices and availability)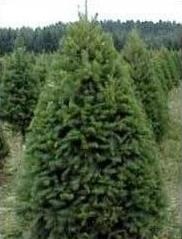 A Douglas fir is an evergreen tree with a pyramid shaped crown and blue green needles ¾ inch to 1½ inches long. It has a wonderful smell. After being cut, the average life of a Douglas fir Christmas tree is only 3-4 weeks with proper watering and care. As with all of our trees...never let your water holding stand become dry! Reasons for buying douglas fir include: It has long soft blue-green needles and a sweet Christmas fragrance. Plantation trees have excellent symmetry and density. They display very well.

Douglas Fir (use drop down for sizes, prices and availability)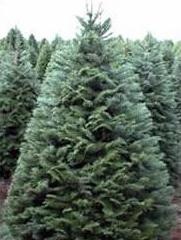 Grand fir Christmas trees are often chosen because of their unique beauty and absolutely wonderful scent. They are by far the best smelling Christmas Tree. They are beautiful, thick trees that attain their shape early and have lustrous shiny dark green needles. Because of their thick growth they are not the best for hanging ornaments. The needles are blunt and notched on the end with two white bands on the lower surface. This gives the tree a "silvery" appearance. The needles spread horizontally in 2 distinct rows and are 1-1/4 to 2 inches long. The branches appear flattened because of their arrangement on the twigs. Grand firs will last only 3-4 weeks with proper care and watering after being cut.

Grand Fir (use drop down for sizes, prices and availability)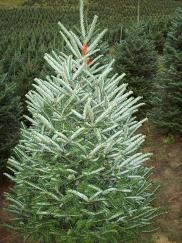 Fraser Fir trees are a popular tree to the folks back east. The upper surface of Fraser fir needles are generally dark green with a visible groove down the center, while the lower surface is a lighter green with two silvery-white bands. The needles on the upper branches are somewhat pointed and tend to curl upward around the twigs in a U-shaped fashion, giving the branch a bottle-brush appearance, while the needles on the lower branches are more blunt and appear to extend out from the twigs from the sides, giving the lower branches a flattened appearance. Fraser fir's have strong natural symmetry, with relatively strong branches to support decorations. The needle retention of cut Fraser fir is great, and produces a balsam aroma. Fraser firs will last only 4-5 weeks with proper care and watering after being cut.

Fraser Fir (use drop down for sizes, prices and availability)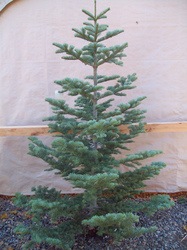 The Red Fir (Silvertip) is often referred to as the "Cadillac of Christmas trees" Like the Subalpine this is a perfect tree for high or vaulted ceilings. It has a beautiful smooth grayish trunk/stem and has a pleasant aroma. It has good needle retention like that of the Noble and Fraser. This is an elegant tree that is not as full as a Noble but not as skinny as a Subalpine. This is the newest tree we have added to our inventory. This tree with proper care should last up to 5 weeks after being cut. Our Silvertips come from California where they grow at 4500'+ in the Sierra Nevada mountain range.

Red Fir (Silvertip use drop down for sizes, prices and availability)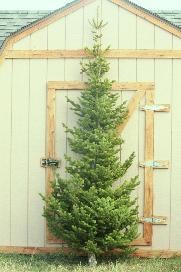 Subalpine fir Christmas trees grow in the wild at higher altitudes. They are popular for their natural unique unpruned look. This is our 3rd best selling tree and has gained much popularity in the last few years becoming the new trendy tree. This fir is popular for homes with tall or vaulted ceilings since the trees are tall and skinny. They are fragrant with a mountain pine smell. The subalpine has great needle retention. Because there is spacing between the branches, it is great for hanging ornaments. Since these trees grow in the wild they are very hearty and take abuse well. This tree is popular for stringing lights while laying on the ground since it is lightweight and can then be lifted by one person. You can expect your Subalpine fir to stay fresh with proper watering and care for up to 8 weeks after being cut. This tree is absolutely stunning when each branch is dressed only in white lights.

SubAlpine (use drop down for sizes, prices and availability)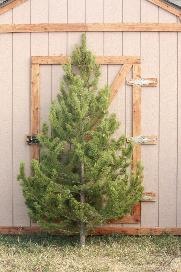 A Lodgepole Pine is named for its common use in the building of teepes. It is the most unique, economical and longest lasting tree we offer. The trunk is narrow straight and tall. They grow wild in higher altitudes. The lodgepole does not send off a pine smell like the other varieties of trees. The Lodgepole pine has not yet gained popularity thus making it an attractive purchase for those wishing to display something different since they usually are not found on tree lots, however it is our 2nd best selling tree. Many of the lodgepoles have beautiful pinecones attached which act as great natural ornaments. The needles are 1-1/2 to 3 inches long, and have the best needle retention of all our trees. This is the funnest tree for our children who cant wait to undecorate after Christmas. After the ornaments and lights are off they like to spread peanut butter on the pinecones and press a handful of birdseed to the pinecones. The pine is then staked upright into the backyard which is appreciated by winter birds for a tasty meal and cover till spring.

Lodgepole (use drop down for sizes, prices and availability)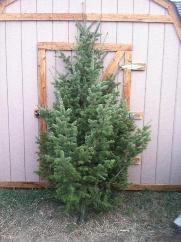 Wild Douglas Fir grow in the wild, they are not groomed on a farm so they are not at all symmetrical. These wild firs come from Montana and Idaho. They have that great Christmas tree smell and are longer lasting than plantation douglas firs. They will outlast the plantation douglas fir by another 2 weeks with proper watering and care. This tree is a perfect option for those looking for an inexpensive, long lasting wild looking fir.

Wild Douglas Fir (use drop down for sizes, prices and availability)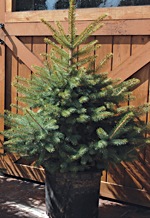 Living Colorado Blue Spruce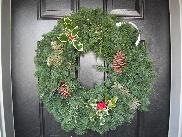 Mixed Noble Wreath with Juniper, Cedar, and Pine cones
(use drop down for sizes, prices and availability)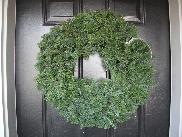 Plain Noble Wreath
(use drop down for sizes, prices and availability)
ppp



Cinco Tree Stands
(use drop down for sizes, prices and availability)

Allied Stand (for Noble, Grand, Douglas and Silvertip greater than 12' tall) ppp



Poinsettia $19.99 available Thanksgiving weekend only


50 count LED colored light strand $19.99


Tree Removal Bag $3.00


Tree Preservative $2.00



Special Delivery Service (you choose the day, or it is not your scheduled area)
$30.00


Pick up and recycle service Saturday Dec 31st. Please have your tree ready for curbside pick up by 8am). We would gladly recycle your tree even if you did not purchase from us.
$20.00