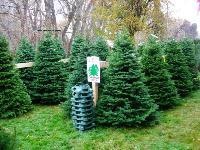 The Evans boys will deliver your prepaid tree or wreath directly to your doorstep in most cities along the entire Wasatch Front. Including every city in Salt Lake County, Davis county, Park City, Heber City, Midway, Alpine, Highland, Cedar Hills, American Fork, Pleasant Grove, Lindon, Orem, Provo, Springville, Mapleton, Spanish Fork, Salem, Payson, Lehi, Saratoga Springs, Eagle Mountain, Tooele, Stansbury Park, Grantsville, Farmington, Kaysville, Layton, Fruit Heights, Clearfield, West Point, Clinton, Roy, West Haven, South Ogden, Uintah, Riverdale, Ogden, North Odgen, Plain City, Farr West, Pleasant View, Willard, Perry, and Brigham City. Click here for the delivery area coverage map.

NO WASTE
We take great pride in offering you an environmentally friendly way of purchasing a fresh-cut, premium-grade, great-smelling, long-lasting Christmas tree. We have our growers cut only the trees that are prepaid eliminating the waste associated with unsold trees on tree lots.

NO HASSLE
The Holidays are a busy time. Spend more time with family and friends without the hassle of shopping for a tree in the cold, snowy weather then wondering how to get it home. With Prepaid Christmas Trees, your tree will be delivered right to the doorstep of your home or business. We give your tree a fresh cut just before dropping on your doorstep.

NO PROBLEM
Leave all the problems at the tree lot. NO looking for the perfect tree in the cold, NO lines waiting to pay by cash only, NO cleaning the pine needles and sap out of the car, NO scratches on the roof of the car. NO NO NO means you'll be saying HO HO HO, as you enjoy your Prepaid Christmas Tree. Buy today and Have a GREAT Christmas from our family to yours.

SURPRISE
Surprise a relative, friend, neighbor, employee, or client when a fresh, hand picked, beautiful symmetrical tree or fresh wreath shows up on their doorstep. A unique gift that will be enjoyed for the next month.

2017 ORDER AND DELIVERY TIMES

Trees and wreaths can now be ordered for the 2017 Season. Ordering now is recommended to secure your tree or wreath. Prepaid orders will be taken until December 15, 2017 or until trees are sold out. Trees and wreaths are scheduled for doorstep delivery to EVERY area beginning Thanksgiving weekend (November 23rd, 24th and 25th) and again on December 2nd.
Salt Lake county ONLY will also have December 9th and 16th deliveries if trees have not sold out.

We offer a $30 Special Delivery service available for non-scheduled days and/or areas.